85 Stories
We have launched the most important preservation project in our agency's history. 85 Stories is our way of making sure that our community's public housing is safe, decent, and affordable for decades to come. We're restoring 2,750 apartments, making sure that 5,000 current residents and generations of future families will have stable and affordable homes.
Our preservation effort began with ten apartment communities that house seniors and people with disabilities, meeting the needs of our most vulnerable residents first. Now we're working to rescue the rest of our community's public housing portfolio. You can read more about each phase of this work below.
Lack of Federal Funds Inspires Innovation
Home Forward has operated more than 2,000 units of public housing throughout Multnomah County for decades. This housing is essential for meeting the needs of people and families living with very low incomes, seniors, and people living with disabilities. For many years federal funding has not kept pace with expenses related the day-to-day operations, maintenance, and capital improvements for these properties. This has made it impossible to do things like replace the roof of a property, or update plumbing or electrical systems in buildings that are many decades old. This lack of appropriate funding leads to deteriorating building systems and mounting maintenance needs or results in the pressure to sell off public housing assets. Home Forward's leadership knew that without a preservation strategy, deeply affordable housing for our community's most vulnerable residents could be lost. The funding decline sparked Home Forward's initial approach to improve and protect our community's supply of public housing. Formulated well over a decade ago, the plan has evolved into today's ambitious 85 Stories campaign.
Strategy Improves and Rescues Homes
Decreasing federal support was coupled with regulatory restrictions that have affected the agency's ability to finance needed repairs. In 2007, Home Forward's Public Housing Preservation Initiative was launched to:
Make public housing units efficient to operate
Address unfunded capital needs
Provide more housing
Pursue subsidy changes while retaining resident protections and Home Forward's property ownership
Over the next several years, the agency made three important changes: 1) replaced single-family home rentals that were inefficient to operate with more efficient multifamily housing; 2) invested $30 million of capital improvements to family housing properties; and 3) increased the number of available apartments.
85 Stories Starts with High-rise Towers
In 2013, Home Forward introduced 85 Stories to focus on the physical needs at ten high-rise properties serving seniors and people living with disabilities. Located in thriving Portland neighborhoods that have a wealth of services and amenities within walking distance, these apartments were identified as a high priority for protection. Ranging in age from 30 to 50 years old, the buildings were safe and well-built but had antiquated building systems that affected tenant comfort, were inefficient to operate, and were burdened with increasing maintenance and repair costs.
Home Forward was granted approval to change the operating subsidy at the properties from public housing to project-based Section 8 rent assistance through a U.S. Department of Housing and Urban Development (HUD) program called Section 18. This allowed us to leverage equity and debt to make the necessary capital investments. Phase I included improvements to Gallagher Plaza, NW Tower, Hollywood East, and Sellwood Center.
The list of improvements was all-encompassing, including new roofs and new windows, new heating systems and electrical work, hot water heaters and storage systems, ventilation systems, seismic upgrades, green building features, and cosmetic upgrades to community rooms and public areas. By improving the physical condition of the buildings, Home Forward was able to reduce operating costs, enhance the property value, and ensure the stability of these affordable housing community assets.
85 Stories was also an opportunity to talk about the importance of public housing and who it serves. Residents in the ten buildings had an average income of less than $800 a month, and the vast majority were seniors or people with disabilities. The renovations have greatly improved conditions for both current and future residents of these properties. While their life stories may differ, our residents share an appreciation for the positive impact a stable home can have. Click here to hear how having a home has made a difference for one individual.
85 Stories Expands Portfolio-Wide
The successful transformation of properties in Phase I quickly fueled an expansion to include all of the public housing communities in Home Forward's portfolio. Phase II utilized a HUD program known as the Rental Assistance Demonstration (RAD) to change the federal program providing rent assistance at newer properties that did not require extensive rehab efforts. Phase II properties included Rockwood Station, the Jeffrey Apartments, the Martha Washington Apartments, the Bud Clark Commons, Madrona Place, Fairview Oaks, Humboldt Gardens, Stephens Creek Crossing, and the communities at New Columbia.
Phase III consists of properties in Groups 5 - 8 that will be preserved through physical rehabilitation, changes to the federal rent assistance program helping people pay rent, and by stabilizing the properties' financing by using the Low Income Housing Tax Credit program.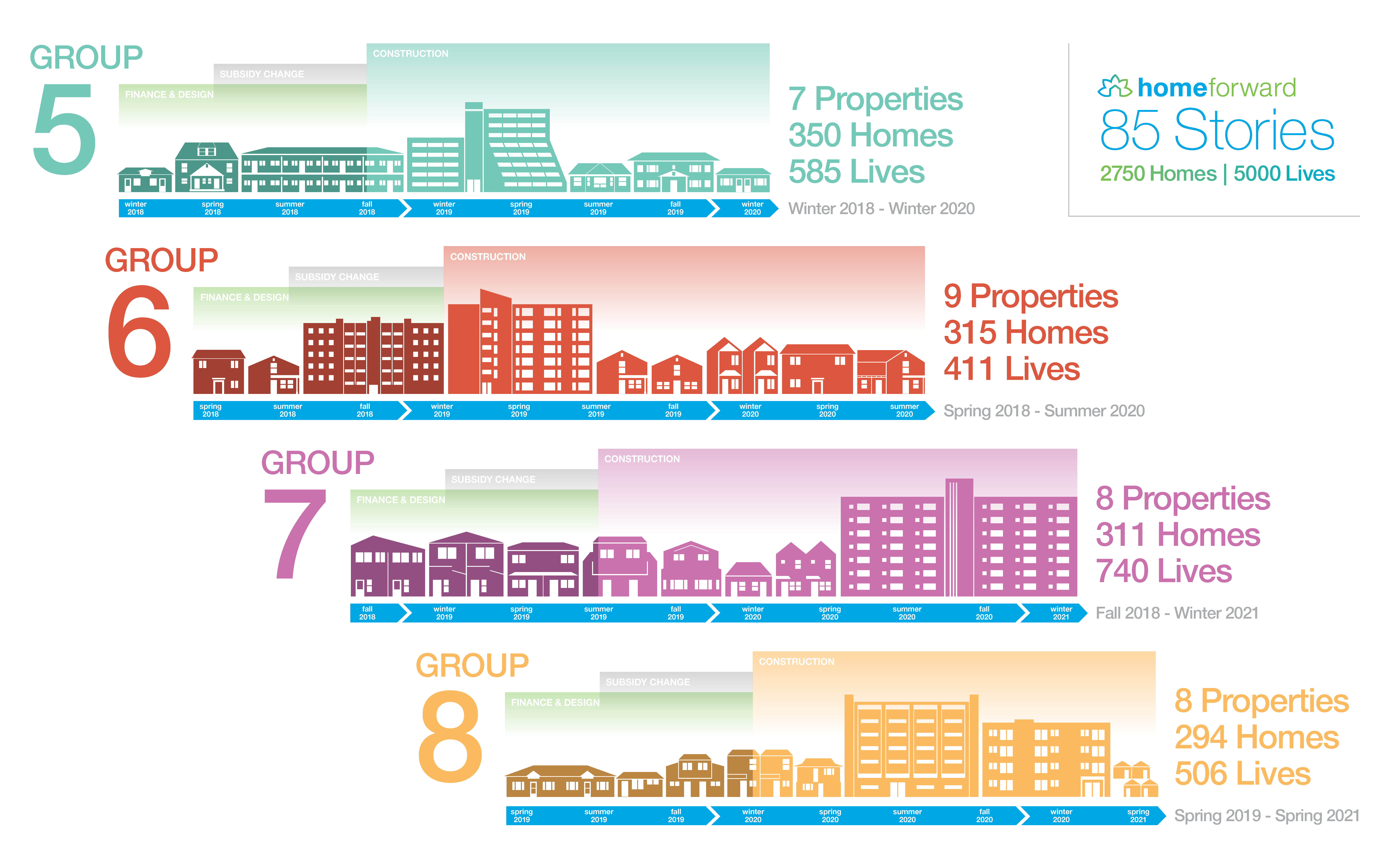 We are currently doing physical rehabilitation to Group 5 that range from new plumbing, new roofs, upgraded units and more. Here's a newsletter that was sent to residents to help them understand what to expect from the work we are doing to preserve the buildings for their families and for generations of families who may need them in the future. Group 5 includes Bel Park, Eliot Square, Tamarack Apartments, Schrunk Riverview Tower, Camelia Court, Maple Mallory, and Winchell Court.
While construction is occurring with Group 5, we are also working on securing financing for Group 6 that includes Alderwood, Hunter's Run, Medallion Apartments, Williams Plaza, Tillicum South, Harold Lee Village, Floresta, Powellhurst Woods, and Tillicum North. All phases of 85 Stories are expected to be completed by 2020. We will continue to update this page as the work progresses. Thank you for your interest and if you have questions, contact us at info@homeforward.org.